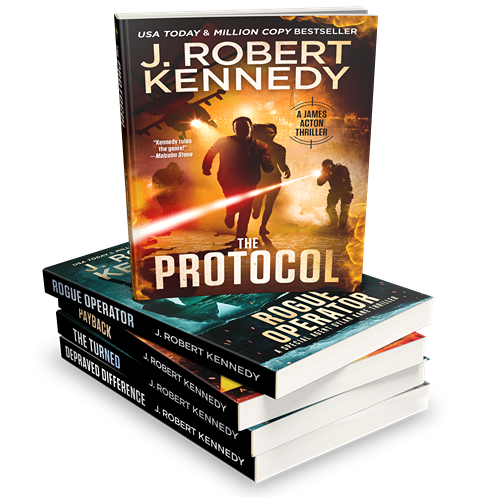 THE PAGES TURN THEMSELVES...
Join the Insider's Club to be notified of new releases, and to get your copy of the J. Robert Kennedy Starter Library!
The Curse of Imhotep
ALL WHO DISTURB THE TOMB OF IMHOTEP ARE DOOMED TO DIE.
AND PROFESSOR JAMES ACTON HAS JUST DISCOVERED ITS LOCATION.
Djoser, Pharaoh of Egypt, has set his eyes on his next conquest.
Imhotep's youngest sister.
Imhotep, respected physician and architect, trusted advisor to Djoser, is placed in an impossible position—turn a blind eye, condemning his sister's future, or lose everything by intervening.
Unfortunately, the gods offer him a third, more terrifying choice.
And almost 5000 years later, Professors James Acton and Laura Palmer pay the price when they dare disturb the final, cursed resting place of Imhotep.
In
The Curse of Imhotep
,
award-winning USA Today and million-copy bestselling author J. Robert Kennedy
delivers a riveting thriller that will have you burning through the pages late into the night. If you enjoy fast-paced adventures in the style of
Dan Brown
,
Clive Cussler
, and
James Rollins
, you'll love this thrilling tale of archaeological intrigue.
Get your copy of The Curse of Imhotep today, and see if James Acton and those he loves can survive the deadly curse…
Click here to buy direct and support the author!
Buy now on Amazon
US
,
UK
,
CA
,
AU
,
Other Amazon Stores
Barnes & Noble
,
Apple Books
,
Kobo
,
Google
,
Scribd
The Arsenal
THE BALANCE OF POWER IS ABOUT TO SHIFT.
CAN DYLAN KANE STOP IT BEFORE IT'S TOO LATE?
When a nearly bankrupt Russia is forced into a corner by an outraged world, abandoned by its traditional allies concerned with economics rather than ideologies, it plays its final card.
A card that could relegate it to middle-power status and make one of America's greatest enemies an unrivaled superpower.
CIA Operations Officer Dylan Kane and his team are in a race against time to expose the deal before it's completed, otherwise the world will never be the same.
In
The Arsenal
,
award-winning USA Today and million-copy bestselling author J. Robert Kennedy
once again delivers a torn-from-the-headlines suspense-packed thriller that will have you staying up late into the night to see what happens next. If you enjoy Bond, Bourne, and Hunt, you'll love Dylan Kane.
Get your copy of The Arsenal now, and discover if Kane can save the world from a terrifying future…
Click here to buy direct and support the author!
Buy now on Amazon
US
,
UK
,
CA
,
AU
,
Other Amazon Stores
Barnes & Noble
,
Apple Books
,
Kobo
,
Google
,
Scribd
Other Purchase Links
For a list of the books in their proper reading order, please click here.
THE TEMPLAR DETECTIVE
IN AN AGE BEFORE DETECTIVES, ONE TEMPLAR KNIGHT IS CALLED UPON TO DELIVER JUSTICE
When wounded Templar Knight Sir Marcus de Rancourt receives word that his sister is dying, he returns to a home he hasn't seen in twenty years, only to find his sister dead, and her children orphaned. Sir Marcus decides to take on the greatest challenge of his life and remain behind to raise the children, his loyal sergeant and squires insisting on joining him to work the land by his side.
Little does he know the peaceful life he has resigned himself to will be nothing but…
THE JUST JACK THRILLERS

ONLY JACK COULD GET LUCKY IN WARSAW, THEN WAKE UP IN MOSCOW A WANTED MAN.
Jack—just Jack, is a kick-ass, wise-cracking CIA Operations Officer, considered one of the best on the Agency's roster. If you're looking for action, suspense, and humor, Jack's your man.
KRIMINALINSPEKTOR WOLFGANG VOGEL MYSTERIES
WHILE WAR RAGED IN NAZI GERMANY, ONE MAN WAS DETERMINED TO KEEP THE PEACE.
Berlin. 1941. Nazi Germany controls most of Europe, and the war has barely touched the German capital. Life goes on, with most civilians optimistic about the future. Bakers baked. Fishermen fished. Cleaners cleaned.
And murderers murdered.
JAMES ACTON THRILLERS
"James Acton: A little bit of Jack Bauer and Indiana Jones!"
Join the reluctant hero, Professor of Archaeology James Acton, as he battles history and incredible odds in a desperate bid to save not only his own life, but the lives of the ones he loves.
"Take an archaeologist or two, a conspiracy, a secret society, the US military, the British police – mix in some car chases, a lot of gore and a little romance and you have the recipe for a cracking thriller that gallops along at breakneck speed."
Start the USA Today and million-copy bestselling series today!
DYLAN KANE THRILLERS
CIA Operations Officer Dylan Kane, former Delta Force and former Professor James Acton student, seems the ideal officer. Dedicated, loyal, patriotic and exceptional at his job. But he's also haunted by an incident from his past, and the world he lives in doesn't allow for confession, so he instead finds solace between missions with a lifestyle that threatens to destroy him.
DELTA FORCE UNLEASHED THRILLERS
You asked for it, now you've got it! The Delta Force Bravo Team has their own series! Get to know Dawson, Red, Niner, Atlas and the rest of the boys even better as they battle impossible odds to not only keep their country safe, but their loved ones as well.
DETECTIVE SHAKESPEARE MYSTERIES
NYPD Detective Justin Shakespeare, disgraced five years ago, battles to regain his reputation, while trying to solve some of the most disturbing cases ever seen in New York City.
"The twists and turns, the frantic pace and the human tragedy made this a compelling read. J. Robert has a wonderful sense of imagery. He is a true "storyteller". He gives us flowing descriptive narrative that is actually "descriptive" without being tedious."
ZANDER VARGA, VAMPIRE DETECTIVE
Zander has relived his wife's death at the hands of vampires every day for almost three hundred years, his perfect memory a curse of becoming one of The Turned–infecting him their final heinous act after her murder.
He's forever changed, but even a vampire needs a job.