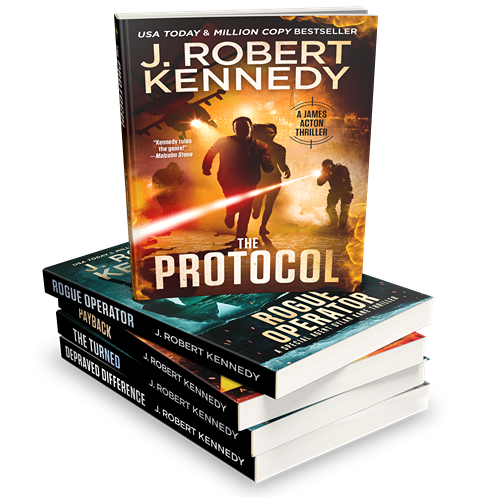 THE PAGES TURN THEMSELVES...
Join the Insider's Club to be notified of new releases, and to get your copy of the J. Robert Kennedy Starter Library!
Jack Be Nimble
ONLY JACK COULD GET CAUGHT IN THE MIDDLE OF A RUSSIAN REVOLUTION.
AND END UP LEADING IT.
When Jack—just Jack—infiltrates a brutal Russian mercenary group, he gets caught up in their plans to remove the military leadership in Moscow.
As the stunning events play out on international television, and the world watches in shock, the CIA is desperate to learn what exactly is going on.
And why Jack is leading the charge.
An intricate, brutal plan is unfolding live for the world to see, but changing the leadership in Moscow is only the beginning.
And if Jack can't figure out what is going on, and transmit what he finds back to Langley, the balance of power in Europe, and possibly beyond, could irreversibly shift.
In
Jack Be Nimble
,
award-winning USA Today and multi-million-copy bestselling author J. Robert Kennedy
delivers the next installment of his hit new series, heavy on action, suspense, intrigue, and humor, certain to keep fans of modern spy thrillers burning through the pages. If you're a fan of Kane, Hunt, Bourne, or Bond, you'll love Jack.
Just Jack.

Get your copy of Jack Be Nimble today, and see what happens when Jack makes friends with the wrong people…
Click here to buy direct and support the author!
Buy now on Amazon
US
,
UK
,
CA
,
AU
,
Other Amazon Stores
Barnes & Noble
,
Apple Books
,
Kobo
,
Google
,
Scribd
The Sword of Doom
POSSESSING THE SWORD OF DOOM HAS MEANT DEATH THROUGHOUT HISTORY.
AND TODAY, JAMES ACTON STANDS ACCUSED OF STEALING IT.
What is now known as the Goujian Sword is wielded by the king of Yue, and the king alone. Whoever possesses it rules the kingdom, and when it is lost in battle, King Goujian pursues those who captured it across the kingdom and beyond in a desperate attempt to retrieve it and maintain power.
He fails.
And thousands of years later, archaeology professors James Acton and Laura Palmer are witness to an exchange of historical importance—the handing over of the long-lost sword, held for generations by the royal family of Bhutan. In an attempt to forge better relations with their Chinese neighbors, the king of the tiny country has decided to return the sword, a source of great national pride to China.
There's only one problem.
It's a fake.
Acton and his wife are accused of stealing the original and replacing it with a replica, and are relentlessly pursued across the globe by a Chinese government determined to possess what they believe is rightfully theirs.
No matter the cost.
In
The Sword of Doom
,
award-winning USA Today and multi-million copy bestselling author J. Robert Kennedy
delivers an action-packed thriller that will have you burning through the pages late into the night. If you enjoy fast-paced adventures in the style of
Dan Brown
,
Clive Cussler
, and
James Rollins
, then you'll love this thrilling tale of archaeological intrigue.
Get your copy of
The Sword of Doom
today, and discover whether James Acton can break the curse and survive what so many throughout history haven't…
Click here to buy direct and support the author!
Buy now on Amazon
US
,
UK
,
CA
,
AU
,
Other Amazon Stores
Barnes & Noble
,
Apple Books
,
Kobo
,
Google
,
Scribd
For a list of the books in their proper reading order, please click here.
THE TEMPLAR DETECTIVE
IN AN AGE BEFORE DETECTIVES, ONE TEMPLAR KNIGHT IS CALLED UPON TO DELIVER JUSTICE
When wounded Templar Knight Sir Marcus de Rancourt receives word that his sister is dying, he returns to a home he hasn't seen in twenty years, only to find his sister dead, and her children orphaned. Sir Marcus decides to take on the greatest challenge of his life and remain behind to raise the children, his loyal sergeant and squires insisting on joining him to work the land by his side.
Little does he know the peaceful life he has resigned himself to will be nothing but…
THE JUST JACK THRILLERS

ONLY JACK COULD GET LUCKY IN WARSAW, THEN WAKE UP IN MOSCOW A WANTED MAN.
Jack—just Jack, is a kick-ass, wise-cracking CIA Operations Officer, considered one of the best on the Agency's roster. If you're looking for action, suspense, and humor, Jack's your man.
KRIMINALINSPEKTOR WOLFGANG VOGEL MYSTERIES
WHILE WAR RAGED IN NAZI GERMANY, ONE MAN WAS DETERMINED TO KEEP THE PEACE.
Berlin. 1941. Nazi Germany controls most of Europe, and the war has barely touched the German capital. Life goes on, with most civilians optimistic about the future. Bakers baked. Fishermen fished. Cleaners cleaned.
And murderers murdered.
JAMES ACTON THRILLERS
"James Acton: A little bit of Jack Bauer and Indiana Jones!"
Join the reluctant hero, Professor of Archaeology James Acton, as he battles history and incredible odds in a desperate bid to save not only his own life, but the lives of the ones he loves.
"Take an archaeologist or two, a conspiracy, a secret society, the US military, the British police – mix in some car chases, a lot of gore and a little romance and you have the recipe for a cracking thriller that gallops along at breakneck speed."
Start the USA Today and million-copy bestselling series today!
DYLAN KANE THRILLERS
CIA Operations Officer Dylan Kane, former Delta Force and former Professor James Acton student, seems the ideal officer. Dedicated, loyal, patriotic and exceptional at his job. But he's also haunted by an incident from his past, and the world he lives in doesn't allow for confession, so he instead finds solace between missions with a lifestyle that threatens to destroy him.
DELTA FORCE UNLEASHED THRILLERS
You asked for it, now you've got it! The Delta Force Bravo Team has their own series! Get to know Dawson, Red, Niner, Atlas and the rest of the boys even better as they battle impossible odds to not only keep their country safe, but their loved ones as well.
DETECTIVE SHAKESPEARE MYSTERIES
NYPD Detective Justin Shakespeare, disgraced five years ago, battles to regain his reputation, while trying to solve some of the most disturbing cases ever seen in New York City.
"The twists and turns, the frantic pace and the human tragedy made this a compelling read. J. Robert has a wonderful sense of imagery. He is a true "storyteller". He gives us flowing descriptive narrative that is actually "descriptive" without being tedious."
ZANDER VARGA, VAMPIRE DETECTIVE
Zander has relived his wife's death at the hands of vampires every day for almost three hundred years, his perfect memory a curse of becoming one of The Turned–infecting him their final heinous act after her murder.
He's forever changed, but even a vampire needs a job.